Jonathan Hendry's Par 3 homes score over major housebuilders' phoney trad
Humberston Road in New Waltham, midway between Grimsby and Cleethorpes, is typical of many roads on the outskirts of British towns and cities, where gradual suburbanisation through piecemeal urban sprawl merges into surrounding settlements. The road is lined by mostly large houses – 'It's where trawler-owners used to build their homes,' says Jonathan Hendry, founder of Jonathan Hendry Architects (JHA), as we drive along it – and a number of the plots have been redeveloped into flats or subdivided.
Lying off it behind the first line of houses are two recently completed housing developments, adjacent to each other across an old tree-lined field boundary. One is for  a national housebuilder. The other, Par 3, consisting of 121 dwellings, has been designed by JHA for a smaller local developer, Cyden Homes. Both are the sort of medium-scale private development on which the government's house-building target relies, given the UK's commercially driven market, dominated by the drip-feed supply of developers releasing chunks of their land-banks for housing.
In such a highly commercialised sector there has been little room for anything seen as adding risky, additional cost, not least the innovative design – or God forbid, stylistic risks – that employing an architect might bring. Of course, whether the anodyne range of pitched-roofed boxes is really what consumers want or just solely what's available remains a moot point. Certainly the toxic mix of sky-high land prices and lack of decent long-term rental options has seen demand outstripping supply even for housing stripped down to basic product.
The national housebuilder's scheme is typical of this type of development – a mix of soulless two-tone brick units with their ersatz 'vernacular' details and trimmings, from plastic drainpipes to stick-on GRP porches, from the generic catalogue of every national housebuilder, completed anywhere in the country. It's the sort of traditional dressing that even the muddled thinking of Michael Gove would see through.
Certainly the serried cheek-by-jowl arrangement of homes make it a good example of the problems of real placemaking in new developments, which Gove has also picked up on. There are no considerations of orientation let alone any more subtle distinctive markers to situate it in its particular location. Aside from budget, the main design driver here is, of course, the car. The site is dominated by the road layout with token 'front garden' thresholds amounting to little more than parking spots.
The generally uninspiring architecture in this sector is particularly depressing when compared with the history of inspired Arts and Crafts and garden city design in the UK's early Metroland-era suburbanisation or indeed the current mini-renaissance of decent architect-designed urban housing blocks.
The notable exceptions over the last couple of decades have remained one-offs that prove the rule: Sergison Bates' semi-detached prototype in Stevenage in 2000, Mikhail Riches' Clay Field in 2009 and ZCD's recent Sidney Close in Buckinghamshire. Anything at a larger scale has relied – as was often the case with the original garden city models – upon clients being either charities able to afford to take longer perspectives, as with BedZED for Peabody, or the odd enlightened developer working closely with a local council, such as Countryside with its Stirling-Prize winning FCBS-masterplanned Accordia scheme in Cambridge or its earlier Abode scheme in Harlow by Proctor & Matthews, which nicely evoked the spirit of the 1970s Essex Design Guide.
'For architects, suburban housing has always been a sort of elephant in the room,' observes Hendry. 'That's why it was such a great opportunity here to design at this scale.'
His practice received the commission for Par 3 after being approached by the then owners of a disused golf course to convert the clubhouse into a house. 'I asked if they'd thought about developing the wider site for housing,' says Hendry. The practice was at the point of submitting a planning application for a housing scheme when Cyden Homes purchased the site from its client. Reappointed to redesign the scheme, JHA successfully took this through planning and to detailed design stage but had no involvement during construction.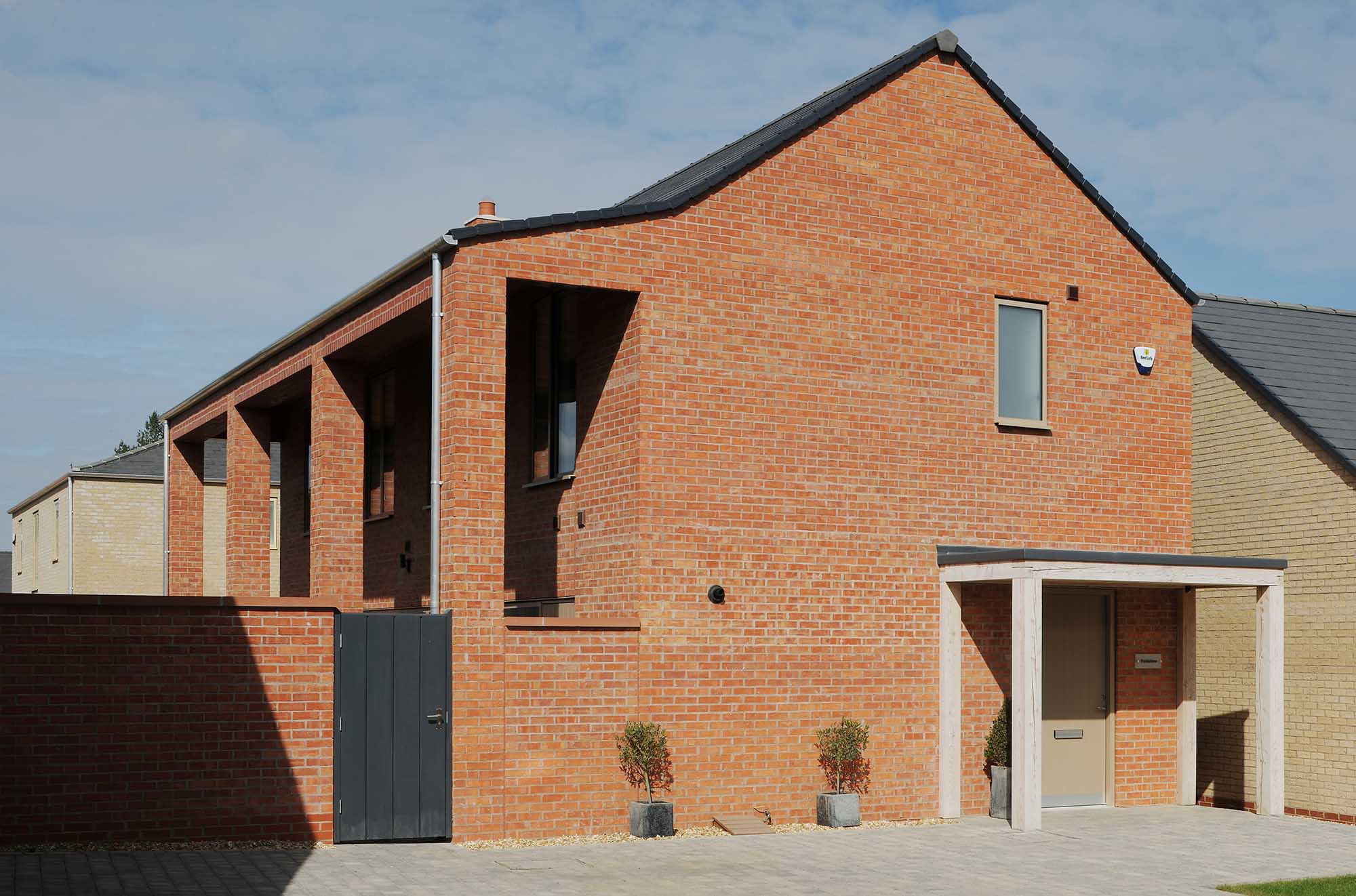 So how does Par 3 compare with its neighbour? It's not exactly like for like. The cost per square metre is clearly significantly higher – although one might argue, if you take the cost of land out of the equation, it's what decent housing needs to cost. 'High-quality architecture on a strict budget' is how Hendry describes it. Certainly these are not luxury homes. The range of housing models includes many terraced and small two-bed semi-detached units as well as more substantial, four-square but not flashy three and four-bedroom detached houses. Of the 121 units, 16 are for social rent.
The housing is approached up a short track-turned-road with a profusion of ground cover and mature trees. As a former golf course, the site already had the advantage of mature landscaping. In turn though, JHA's masterplanning of the site has used this to good advantage, with existing spinneys and clumps of planting that once screened between holes informing the layout and being reemployed to screen houses from each other.
A line of reeded swales creates a natural threshold as you approach the site, edged on three sides not by a road but a strip of green that along its western edge swells into an elongated common. This gives a very different generosity and breathing space to the site, allowing it to merge into the surrounding fields. 'I always think slack space is important,' says Hendry.
The 'common' borders a single spine of access road, leading up to a line of houses in the distance. Five secondary cul-de-sac lanes lead off this, with dwellings to each side, the road surface designed as what Hendry describes as 'hybrid home zones' with planters already eddying and softening the edges as you look along them. What's notable is that these aren't the usual claustrophobic dead-ends lined by bulwarks of houses and cars.
The 'lanes' are only cul-de-sacs to cars, since cut-through paths run off them, following existing bands of trees and planting between gardens, to link to parallel streets. They also connect at their ends with the encircling strip of green, giving access to a path for jogging or dog-walking. In addition, the character of each street has been differentiated by planting with different types of tree, including silver birch, lime, beech and rowan.
Particularly noticeable is the shifting orientation and set back of the houses from the street, with garden walls used judiciously to provide hard, contained edging in places, which then serves to emphasise the deep threshold spaces to the houses, lined with grass and hedging. 'It's the sort of stuff that contributes to spatial richness,' says Hendry. Cars are not allowed to dominate, with garages set back behind houses or grouped in a mews-type space at the rear of the terraced units.
Orientation also determines the use of the most distinctive architectural element: lofty double-height verandas with meaty brick piers. Rather than being a randomly applied 'feature', these are used solely on south-facing façades, mitigating heat-gain and giving some houses an oddly Alabama vibe.
It all adds to the variety of threshold spaces around the houses, focused out front on spacious porches, mostly solid brick and double height even on small semi-detached houses. 'I wanted to break down the expected hierarchy between types,' says Hendry. These simple, generous entrance thresholds add a strong centre of gravity to façades while celebrating the act of arrival at each house.
Such solid, almost outsized porches are also a local characteristic, seen on brick houses across the east of England. More generally, the arrangement of elements employed across the designs came out of JHA's research into local and historic models. 'We studied typologies of Britishness and Englishness in housing – barns, farm cottages and Georgian houses – aspiring to models from Arts and Crafts workers' cottages to pitched-roof, three bay farmhouses,' says Hendry. 'It's all about balance and how far you can reference and push these models in a contemporary way without pushing too far.'
The houses are built of lightweight Plasmor blocks, clad in the main in a mix of pink and yellow Ibstock brick, matched in colour to local clay types. Some single-storey homes are clad in hit-and-miss oak, with a cloaking strip 'as used in Lincolnshire barns'. It adds to a sense of a settlement composed almost of fragments of farmsteads.
The mix of cladding does, however, feel a bit forced in places, and some houses also sport an unattractive plaster render, which apparently the client asked to be included as an option. It gives some houses a bland appearance and is already staining.
Care in the detailing and specification is evident though, with aluminium guttering and pipes adding a sense of solidity, as do the powder-coated Velfac windows specified, which are decently but proportionally sized, framing views rather than providing glazing for the sake of it. The latter, though, have progressively been value-engineered down over the phased nine-year build, replaced initially by a similar product but then, in more recent houses, by dead-looking coloured PVC frames.
Interior layouts have the same modesty yet generosity as the exteriors. All start with double-height, top-lit hallways providing spatial release in what otherwise are tightly-planned homes, although ones with built-in flexibility, including elements such as a work/hobby room over garages (the scheme is Built for Life accredited). 'I've spoken with someone who first bought a semi-detached house, had kids and is now buying a larger house, because they liked living there so much,' says Hendry.
The designs, while not pushing any sustainability envelope, reinforce the thoughtful passive features of highly insulated envelopes and careful orientation, with features such as PVs, built-in blinds and verandas. 
There are disappointing aspects to the scheme, in particular how all the social-rent units are grouped slightly ghetto-like together down one of the streets. This, Hendry says, was down to the housing association wanting them all in one place for ease of management. These semi-detached units remain a bit bleak too, with planting minimised in front presumably for maintenance, although otherwise they are identical to those for market sale.
In addition to the value engineering on some aspects of later units, there are errant features, including odd framed areas of blank brick on some houses, which look like blocked-up openings, and which Hendry does not recognise. ('I suppose we must have drawn them.') While there's an understandable level of distance from a scheme designed a decade ago  and then built-out in phases by the developer, the flipside is a perverse sense too of a scheme somehow evolving its own idiosyncracies and characteristics over time, free from a single design control. It's a process Hendry is phlegmatic about. 'As an architect you can't hold on to everything,' he says. 'You can only set up the background to living.'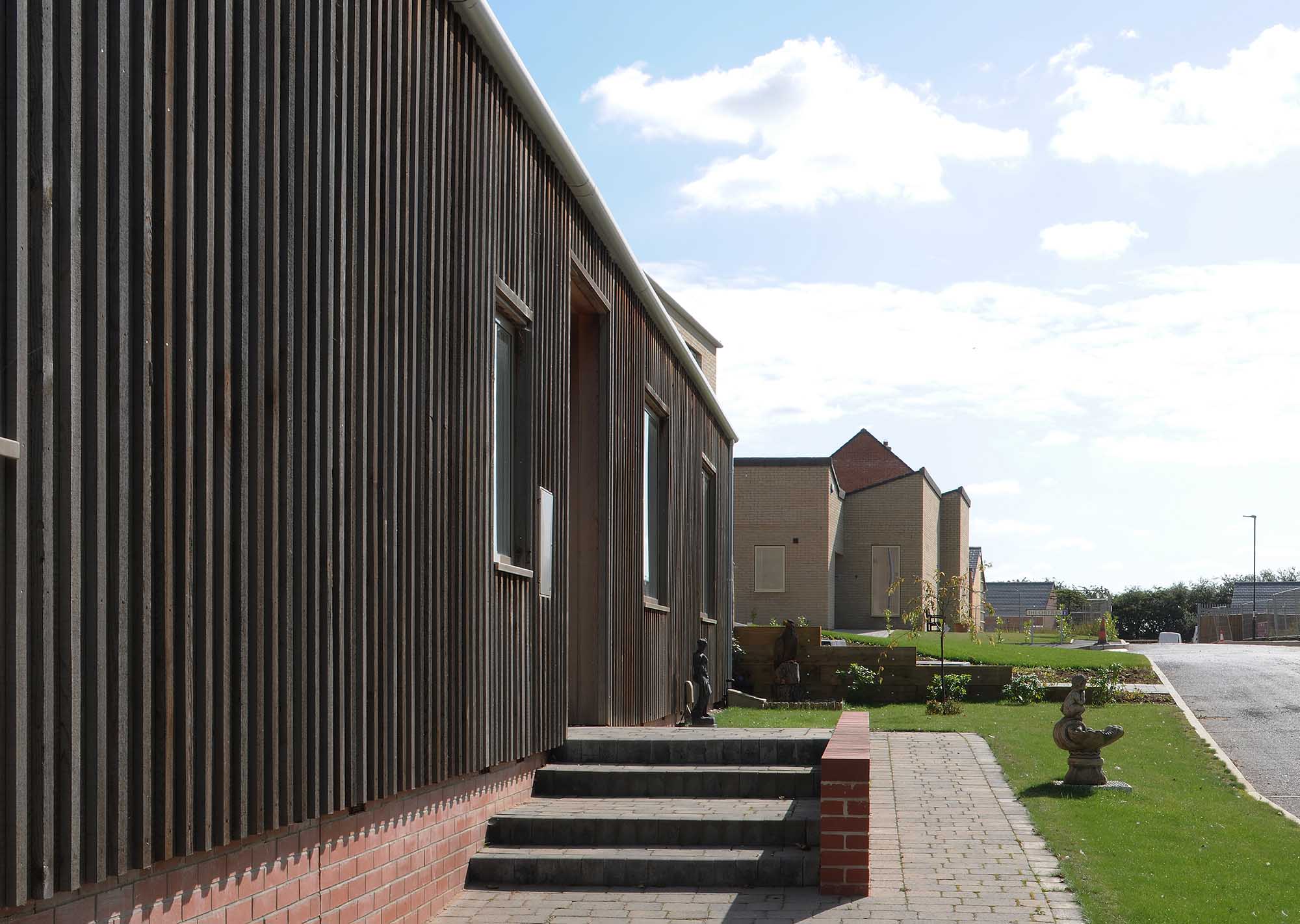 This is a scheme that already feels remarkably grounded. It's a lesson in how small moves, careful orientation and a variety of threshold-making can enrich a development immeasurably. Despite this being a suburban housing development, which by its nature lacks a social focus per se, there's a richness of incident and spatial complexity that has echoes of Gordon Cullen's classic observations on settlement-making in Townscape. In fact, a community hall was originally proposed to sit on the common (and may still be added) which would provide a useful shared facility and focus for residents.
Par 3 may remain just another example of a one-off architect-designed housing development holding no lessons for the cut-throat mainstream commercial market. It would be nice, though, to think that it at least presents a timely model for someone like Gove to look at, proving there's no need to found some new 'placemaking' academy. Given intelligent clients and solid budgets, architects already have the design skills to make both decent housing and decent places. 
Architect's view
The development is intended to be at the forefront of sustainability and contemporary design. It aims to create a place that has unique characteristics appropriate for its location and context.
The primary access road is bordered by a strip of wildflower meadow and takes all traffic through the central green, creating a strong sense of arrival. A series of lanes with shared home zones branch off, creating a physical openness of the site. These lanes are arranged around existing avenues of mature trees allowing a natural flow of dwelling placement.
The dwellings are adjusted in their built form and orientation dependent on their typology to maximise solar orientation and minimise overshadowing. All dwellings are carefully considered in their placement to allow a generous formation of space between buildings. This is driven by the desire to create a place that has a sense of openness – a spatial quality somewhere between suburbia and open countryside.
Par 3 achieved Level 5 of the Code for Sustainable Homes.
Jonathan Hendry, founder, Jonathan Hendry Architects
Planning officer's view
The applicant is considered to have taken a proper and considered approach to design and has achieved a scheme layout and detail that recognises and responds to the site's context and preserves and enhances the best of the site's landscape features.
All dwellings have been designed to meet Lifetime Homes Standards, so allowing for evolution, change and adaptability throughout peoples' lives. A low density of 16 dwellings per ha respects the locality's low density character.
Existing trees and hedges have benefited from being left undisturbed since 2007 and offer a sound basis for additional soft landscaping, including wild grasses and the planting of native tree species.
Besides a footpath and wildlife corridor following the site perimeter, paths will link the several streets, each of which will be lined with a single species of native tree, the intention being to provide a feeling of enclosure as well as giving different areas an individual identity of scale and colour. Planters are intended in the Home Zones and in Scouts Lane.
Bill Turner, case officer, North East Lincolnshire Council
Client's view
Par 3 has been an opportunity for us as housebuilders to go beyond our current approach in a more experimental way.
Our initial conversations with the architects were very much about finding a balance between a traditional housing development and something that was more about place making, sustainability and ecology.
As a developer our main concern was how far we could push the architecture being mindful that we are building for the open market. We are pleased to say that there has been an overwhelming appetite and desire for people to own and live at Par 3.
Simon Dyson, managing director Cyden Homes
Working detail
To achieve a good social mix it is imperative that a variety of house typologies are developed. We like the idea of working with typologies that are familiar: the semi, terrace and detached.
The aim for the design of the typologies is to provide long-life, adaptable buildings that allow for change and adaptability in people's lives.
Taken from familiar typologies, but not in anyway being pastiche or attempting to turn the clock back, the houses draw upon and extend the principles of these typologies and adapt these to modern lifestyles and habitation patterns. We are interested in learning from the past to create the contemporary.
We like the idea that typologies are organised around the idea of farmstead – buildings arranged to create groups that define space and form an interface between settlement and landscape. Drawing inspiration from the English typology studies that have been undertaken, façades become a contemporary interpretation of these familiar housing typologies.
The front façade of these homes replicates the scale, symmetry and window proportions of the studied housing typologies. This group of window proportions is repeated across the façades, creating simplicity through repetition. The positioning of the windows in this façade is a direct response to the functional requirements of the rooms. When large windows are not appropriate, the opening is reduced in scale accordingly.
The south-facing façades have timber pergolas with electric solar blinds built into the top frame, reducing solar gain during the hotter days of the year and allowing solar gain during the winter months. Windows are more generous in scale, opening the back of the dwellings out to the view and garden. These window openings provide generous amounts of natural ventilation.
The development provides an abundance of open space with appropriate pedestrian and cycle links. The project encompasses an ecologically diverse environment with opportunities for outdoor play and recreation for a range of age groups. The principle for the whole development is to provide a safe environment for play. This is achieved by providing large open spaces away from the principal carriageway and overlooked by housing.
The inclusion of native wildflower meadows makes reference to the wild grasses that characterise this redundant site while the idea of maximising biodiversity is one that we feel is extremely important.
Jonathan Hendry, founder, Jonathan Hendry Architects
Project data
Start on site  September 2013
Completion September 2022
Construction cost  £20 million
Architect Jonathan Hendry Architects
Client Cyden Homes
Structural engineer  Ross Davy Associates
Project manager Cyden Homes
CDM co-ordinator Cyden Homes
Approved building inspector  North East Lincolnshire Council
Main contractor  Cyden Homes
Code For Sustainable Homes assessor Terry Holmes Consultants
H&S consultant PIB Risk Management
Landscape consultant Lindsey Tree Services
Ecological consultant Scarborough Nixon Associates
Flood risk assessor Ewe Associates
Surface water drainage consultant Ewe Associates/Anglian Water
Foul water drainage consultant Anglian Water
Transport consultant Local Transport Projects
Sustainability data
PLOT 66 (TYPE 6)
On-site energy generation Not supplied
Heating and hot water load 39.4 kWh/m2/yr
Total energy load 81 kWh/m2/yr
Carbon emissions (all) 13.26 kgCO2/m2
Annual mains water consumption 38.325 m3/occupant
Airtightness at 50Pa 4.5m3/hr/m2
Overall thermal bridging heat transfer coefficient (Y-value) 0.00613 W/m2K
Embodied / whole-life carbon Not supplied
Predicted design life in years Not supplied
PLOT 76 (TYPE 1)
On-site energy generation Not supplied
Heating and hot water load 59.65 kWh/m2/yr
Total energy load 79 kWh/m2/yr
Carbon emissions (all) 13.84 kgCO2/m2
Annual mains water consumption 38.325 m3/occupant
Airtightness at 50Pa 4.71m3/hr/m2
Overall thermal bridging heat transfer coefficient (Y-value) Not supplied
Embodied / whole-life carbon Not supplied
Predicted design life in years Not supplied
PLOT 86 (TYPE 6.7)
On-site energy generation Not supplied
Heating and hot water load 41.5 kWh/m2/yr
Total energy load 79 kWh/m2/yr
Carbon emissions (all) 14.04 kgCO2/m2
Annual mains water consumption 38.325 m3/occupant
Airtightness at 50Pa 4.35 m3/hr/m2
Overall thermal bridging heat transfer coefficient (Y-value) 0.0533 W/m2K
Embodied / whole-life carbon Not supplied
Predicted design life in years Not supplied
PLOT 96 (TYPE 9)
On-site energy generation Not supplied
Heating and hot water load 41.9 kWh/m2/yr
Total energy load 76 kWh/m2/yr
Carbon emissions (all) 13.66 kgCO2/m2
Annual mains water consumption 38.325 m3/occupant
Airtightness at 50Pa 4.05m3/hr/m2
Overall thermal bridging heat transfer coefficient (Y-value) 0.0514 W/m2K
Embodied / whole-life carbon Not supplied
Predicted design life in years Not supplied
PLOT 106 (TYPE 10.1)
On-site energy generation Not supplied
Heating and hot water load 40.2 kWh/m2/yr
Total energy load 76 kWh/m2/yr
Carbon emissions (all) 13.15 kgCO2/m2
Annual mains water consumption 38.325 m3/occupant
Airtightness at 50Pa 4.62m3/hr/m2
Overall thermal bridging heat transfer coefficient (Y-value) 0.0493 W/m2K
Embodied / whole-life carbon Not supplied
Predicted design life in years Not supplied
PLOT 114 (TYPE 4.1)
On-site energy generation Not supplied
Heating and hot water load 39.8 kWh/m2/yr
Total energy load 72 kWh/m2/yr
Carbon emissions (all) 13.71 kgCO2/m2
Annual mains water consumption 38.325 m3/occupant
Airtightness at 50pa 4.78 m3/hr/m2
Overall thermal bridging heat transfer coefficient (Y-value) 0.0475 W/m2K
Embodied / whole-life carbon Not supplied
Predicted design life in years Not supplied