suspended above los angeles hill, john lautner's modernist gem is listed for $16M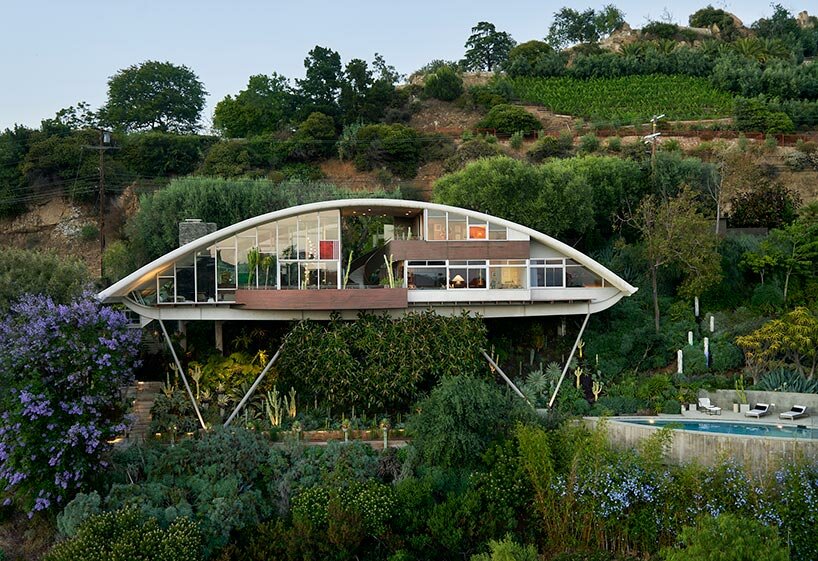 an 'eye' over the Hollywood Hills of LA by John Lautner
Suspended on stilts over the Hollywood Hills of LA, the Garcia House, also known as the Rainbow House, is an iconic masterpiece designed by the Californian architect John Lautner. Originally built in 1962 for American composer and arranger Russell Garcia, the house is recognized as one of the most significant midcentury properties in Los Angeles and is marked for its memorable parabolic silhouette over stained glass windows. Although the two-story structure underwent numerous major changes by Marmol Radziner in 2002, to this day, it retains timeless features that bear Lautner's exceptional design character. Floating 60 feet (about 18m) off the ground, the modernist gem hits the market for $16 Million. The listing is held by Weston Littlefield, Aaron Kirman, and Dalton Gomez of AKG | Christie's International Real Estate.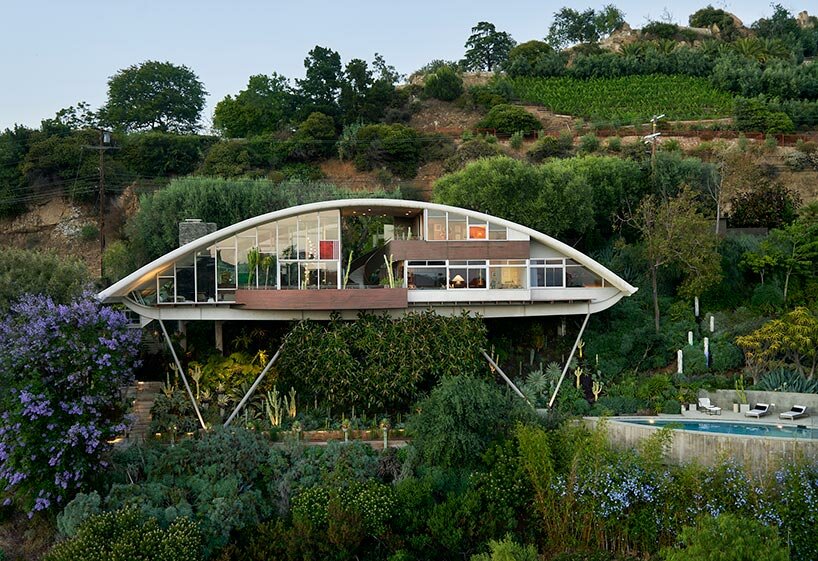 all images ©Aaron Kirman
keeping the original ideas intact
Apart from the iconic roof, John Lautner's masterpiece exhibits timeless classics, including a lava rock entryway, original terrazzo flooring, and a vast wall of windows. Standing only on slender V-shaped stilts, the project seems to defy the gravity rules. The floor-to-ceiling openings frame sweeping vistas of Los Angeles, flooding the inside with ample light and green pops. A hillside descent meanders users through a leafy scheme, designed by landscape architect John Sharp, and guides them to an eye-shaped pool. The stunning pool was added in 2008 and follows the shape of its signature parabolic roof, creating a blue oasis within the lush surroundings.
The curved high ceiling offers a breathtaking feeling from the inside, while the colored glass panels add a playful splash to the spaces. Occupying 2,600 square feet (about 241 sqm), the dwelling contains three bedrooms, and three bathrooms, while the features have been revamped respectfully in order to host a contemporary lifestyle without compromising the original purpose of the project.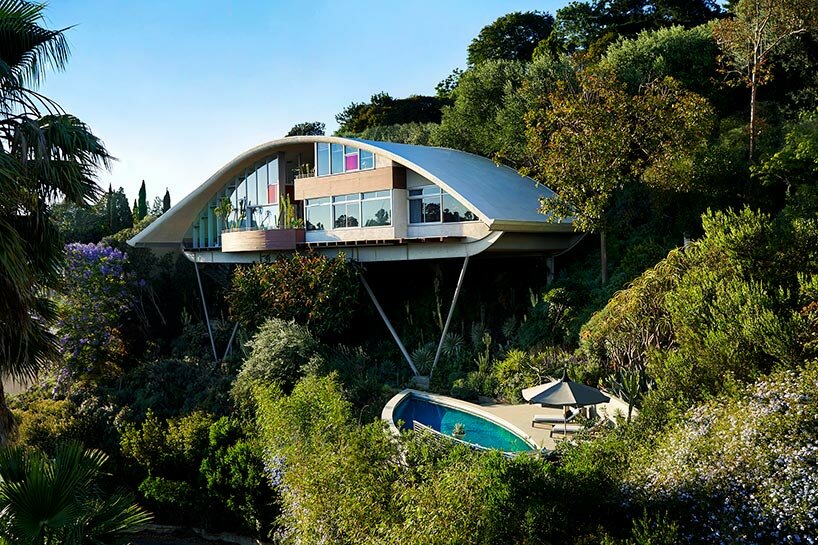 in 2002, the house underwent a historic restoration with a focus on preserving original details and functionality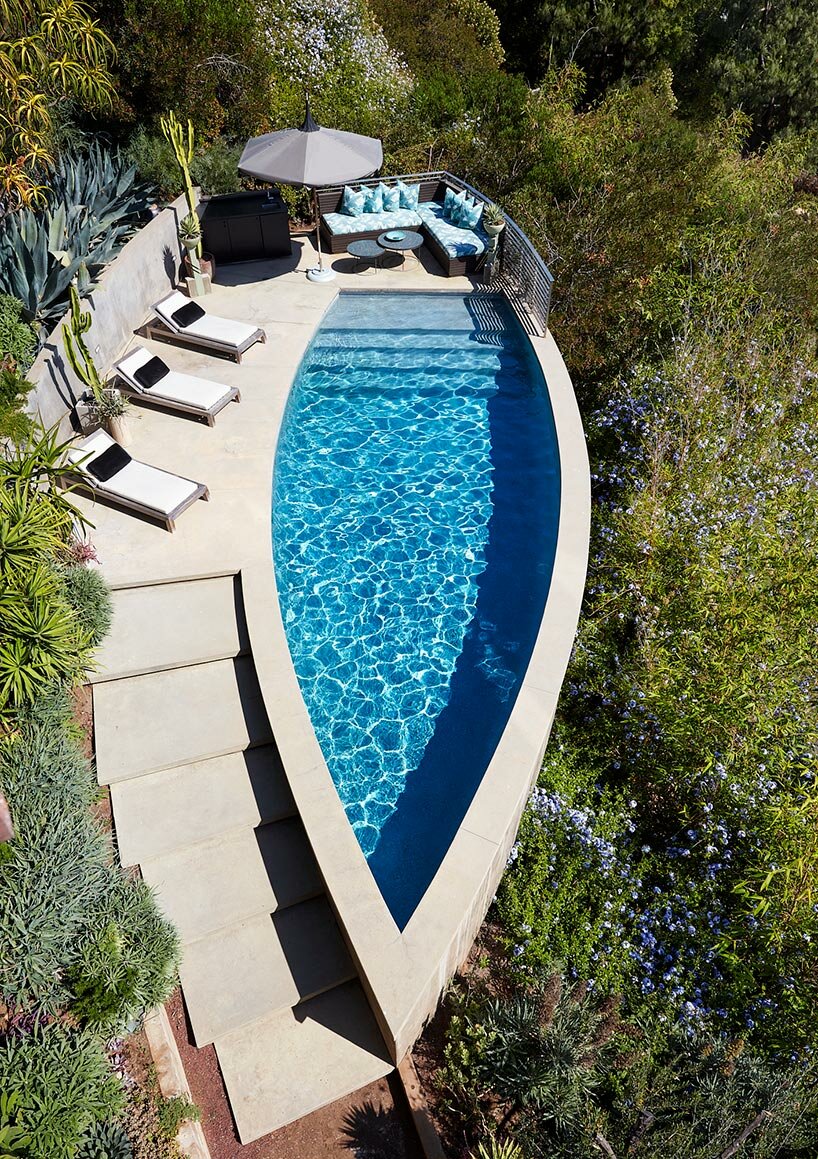 the pool was built in 2008 using Lautner's original design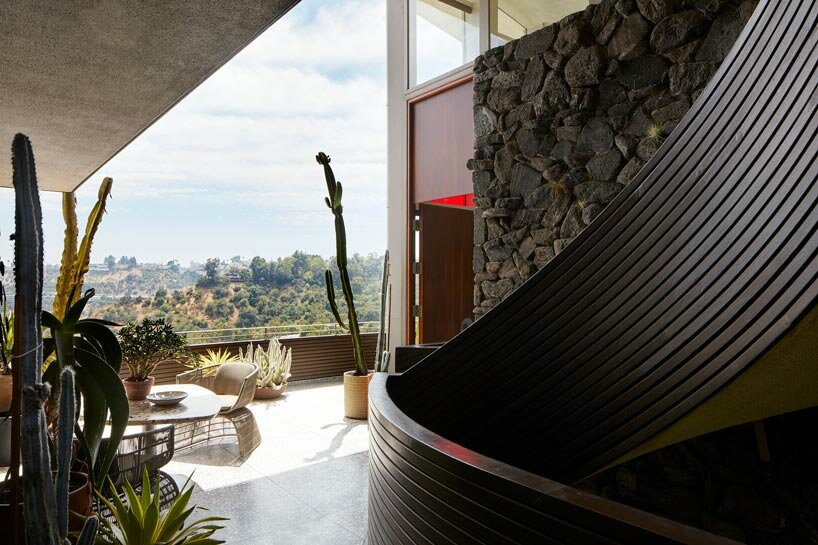 the exterior staircase offers extended panoramas of the green landscape